Templates – Every Web Developer's Pet Hate
18 March 2020
Like with everything, there are shortcuts you can take when building a website. Templates are those shortcuts. They're easy to use, cheap and anyone can implement them. However, there's a lot more to it than that – and in today's blog, we're going to detail exactly why our Melbourne-based web design team prefer the route of custom designs.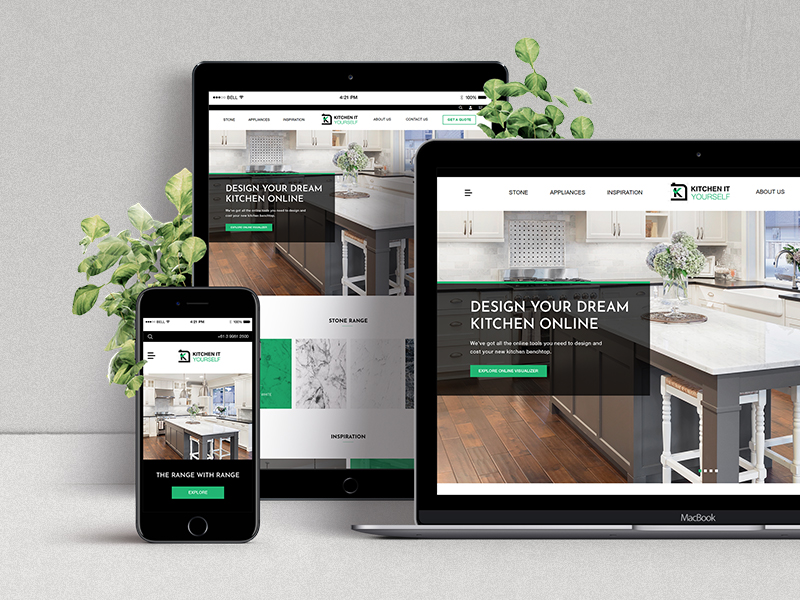 "I'll just use a free template…"
Templates may seem like an attractive idea for your business. You won't have to pay any fees (or at the very least, small fees) and you can set it up yourself, moulding the predominantly limited capabilities to represent your brand. Unfortunately, that's exactly what they are – limited capabilities. There's only so much you can do with templates and at the end of the day they'll all end up looking the same no matter how many colours you change.
"But can't I just pay for a template?"
Paid templates offer slightly more lenience when it comes to making it your own but they're still ultimately templates and there will be thousands of other websites out there that will look the same as yours with slightly different colours or fonts. Templates can stifle creativity – and whilst you might think that they're customizable at the time, the truth is they're not at all.
"What's a custom web design?"
Imagine every single conceivable part of a website was customisable – that's essentially what a custom-designed website is. Our web design team excel in this field and approach each project with a fresh outlook and idea. Our designers and developers are fluent in HTML, CSS, PHP and JavaScript to name a few. Using our customer's brand, business and goals we can conceptualise wireframes and early-stage drafts.
With a custom web design, the website is tailored specifically to your needs and what your brand represents. This is something that can't be achieved through a template. A custom design means you can have that drop-down menu that comes out of the side of the page. Or, that interactive map showing your business' location. One of the benefits of working with a custom web design team such as ours is that you're able to communicate the features you want and then sit back and watch your ideas come to life in front of your eyes.
"So, how will I specifically be limited by templates?"
We feel that one of the most important factors of a website is individuality. Giving your brand the unique and bespoke online presence it deserves is key and that's just not achievable when it comes to templates. Thousands of people will be using the same template as you and sometimes their colours and limited customisability scope will overlap with yours – meaning you'll be blending in even more so.
Whilst you can customise some aspects of a template – these pale in comparison to what can be achieved through a completely custom web design. The capability of a template's back end may be limited. For example, basic elements such as text editing can be achieved through the back end but nothing too radical.
API's or third-party systems can also be pretty limited as well as difficult to integrate into templates. This is due to the pre-defined code in templates that requires workarounds such as hacking them to ensure they don't break – which can compromise the website's overall performance.
Search engine optimisation is another capability you may have limited flexibility with when using a template. The coding often contained within templates is generally fairly messy which can compromise your site's SEO performance.
"But templates still look great and will do what I need them to?"
They won't exactly work how you might need them to, though. Some templates may look the part, but when it comes to being conversion-friendly their optimisation may be lacking in comparison to custom websites. Custom designs account for your target audience, and through thorough research, our team can assess what your target audience will be most drawn towards – maximising your conversions whilst still maintaining a sleek and navigable user interface/experience.
"I think I'll stick with custom web design…"
If you're serious about your business and want to stand out from the crowd, then there's only one way to do that – and that's with a custom-built website. AWD Digital are masters of web design and development and everything we do is completely custom and tailored to suit your business' needs. You can relax knowing that you're in capable hands. We don't cut corners and we don't use templates.
We'll keep you informed at every step of the process – from initial wireframing to high-fidelity mock-ups to ensure that you're happy with the direction of your site. This sort of transparency allows you to communicate to us what you're after and what you'd like changed.
If you'd like to get in touch with our Melbourne-based web design team to enquire about a custom website, then please give us a call on +61 3 9001 6255. You may also contact us using the form on our website.